It is always wonderful to share updates with our NERD community. #CalNERDS @CalNERDS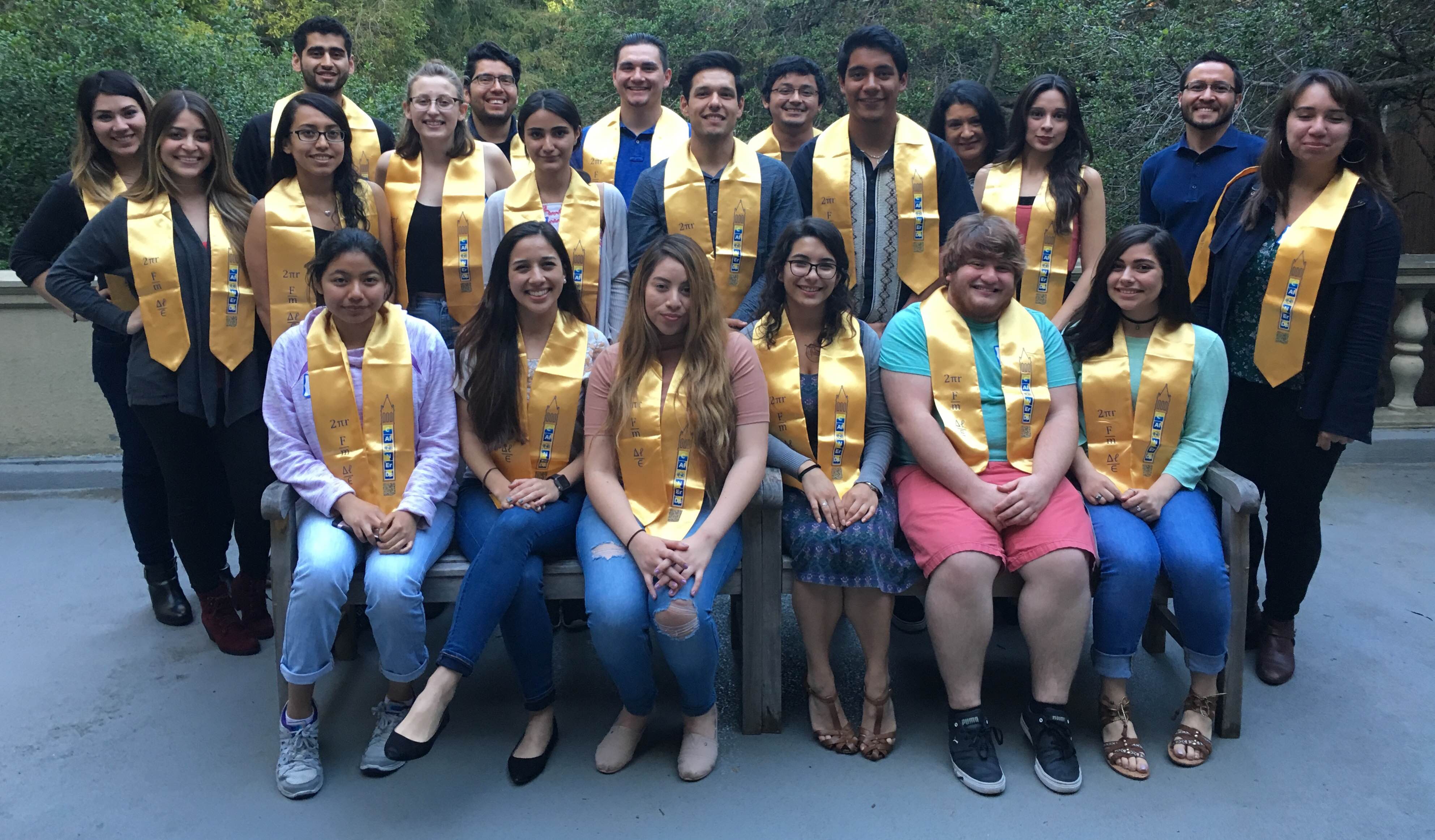 Cal NERDS 2017 Graduates
Cal NERDS Graduation Highlights
April 2017 | Proud of these NERDY accomplishments, we will continue to add more throughout the next few weeks
Chris Agostino, Astrophysics, has decided to go to the University of Illinois for his PhD in Astrophysics
Areidy Beltran, Earth and Planetary Science, will be graduating with her Masters from UC Berkeley
Anastasia Bizyaeva, Physics and Engineering, has decided to go to Princeton for her PhD in Aerospace Engineering
Edy Cardona, Material Science and Engineering, will be earning his Masters at UC Berkeley and continuing on for his PhD
Dylan Gorman, Physics, will be graduating with his PhD from UC Berkeley
Jessica Hernandez, Environmental Science, will be earning her Masters at the University of Washington and continuing on for her PhD
Alex Nguyen, Physics, has decided to go abroad to a University in Australia for his Physics PhD
Newton Nguyen, Geophysics, has decided to go to Cal Tech for his PhD in Computational Physics
Ebuka Nweke, Environmental Engineering, will be graduating with his PhD from UC Berkeley
Angelique Scheuermann, Chemistry, has decided to go to the University of California, Santa Barbara for her Chemistry PhD
Carlos Sierra, Physics, has decided to go to the University of Michigan for his Physics PhD
Jackie Taylor, Environmental Engineering, has decided to go to the University of Minnesota for her PhD in Environmental Engineering
Carlos Torres, Climatology (extreme weather), has decided to go to UC Berkeley for his Masters in Earth and Planetary Science
Gerardo Veliz, Civil Engineering, has accepted a STEM Research Fellowship at Los Alamos National Lab in New Mexico
Andres Vindas Melendez, Mathematics, will earn his Masters from San Francisco State and he has decided to go to the University of Kentucky for his PhD in Mathematics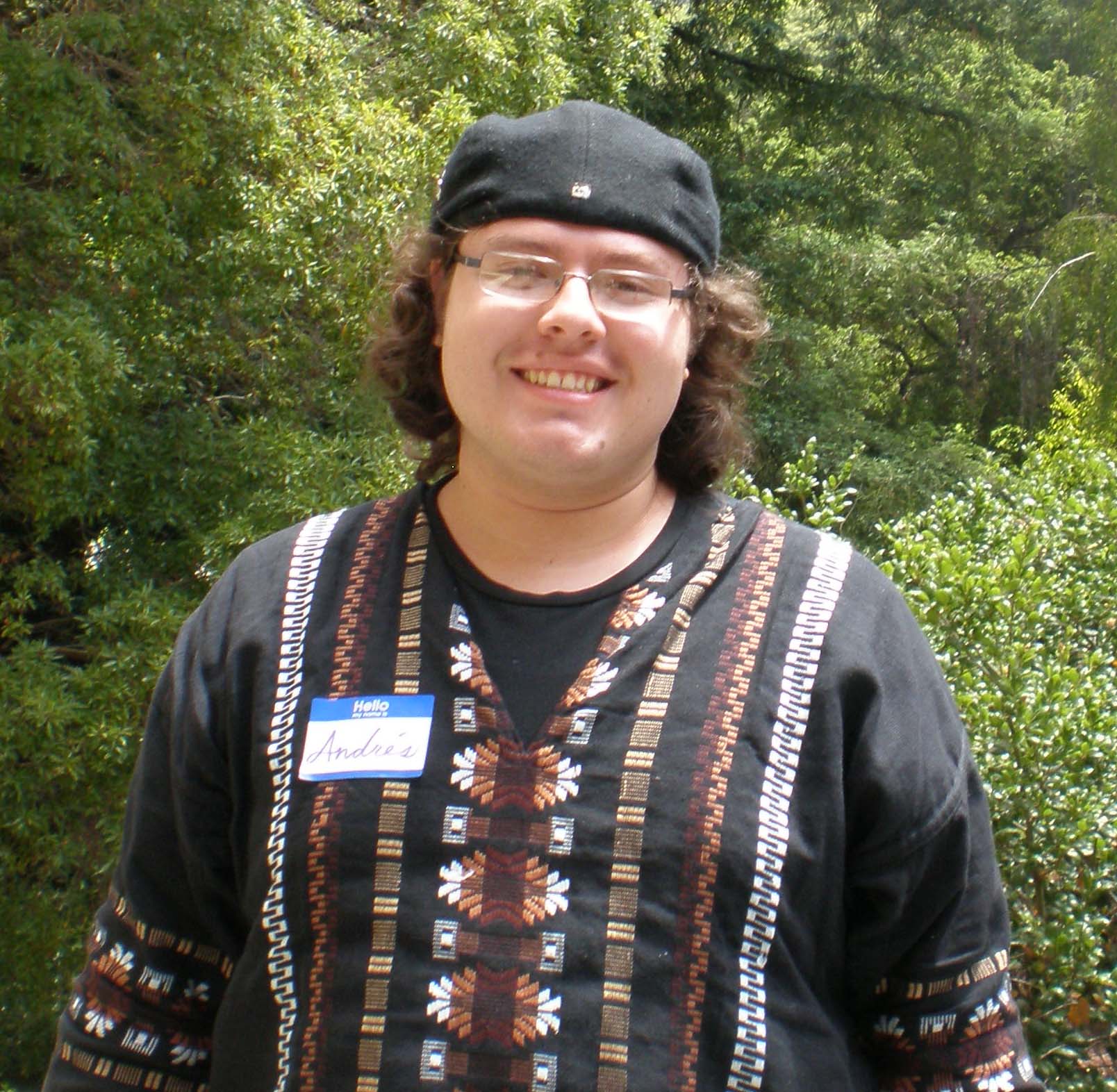 Cal NERDSCal NERDS Alumni Andres Vindas Melendez Earns Top Award
Cal NERDS Earns Top Award - Andres Vindas Melendez Showcased!
April 2017 | Proud of our NERD alumni Andres Vindas Melendez, Mathematics, who is showcased by San Francisco State University for earning the NSF Graduate Research Fellowship.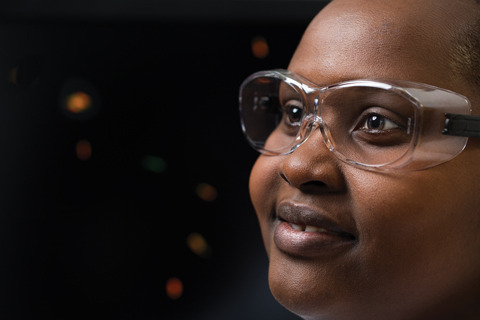 Cal NERDS Graduate Student Alumna Mireille Kamariza Showcased in Stanford's Alumni Magazine
March 2017 | Stanford continues to celebrate Mireille Kamariza's efforts to improve the human condition through her work on TB tests. We are so proud of her work and her mentor Dr. Carolyn Bertozzi. Read the full story here.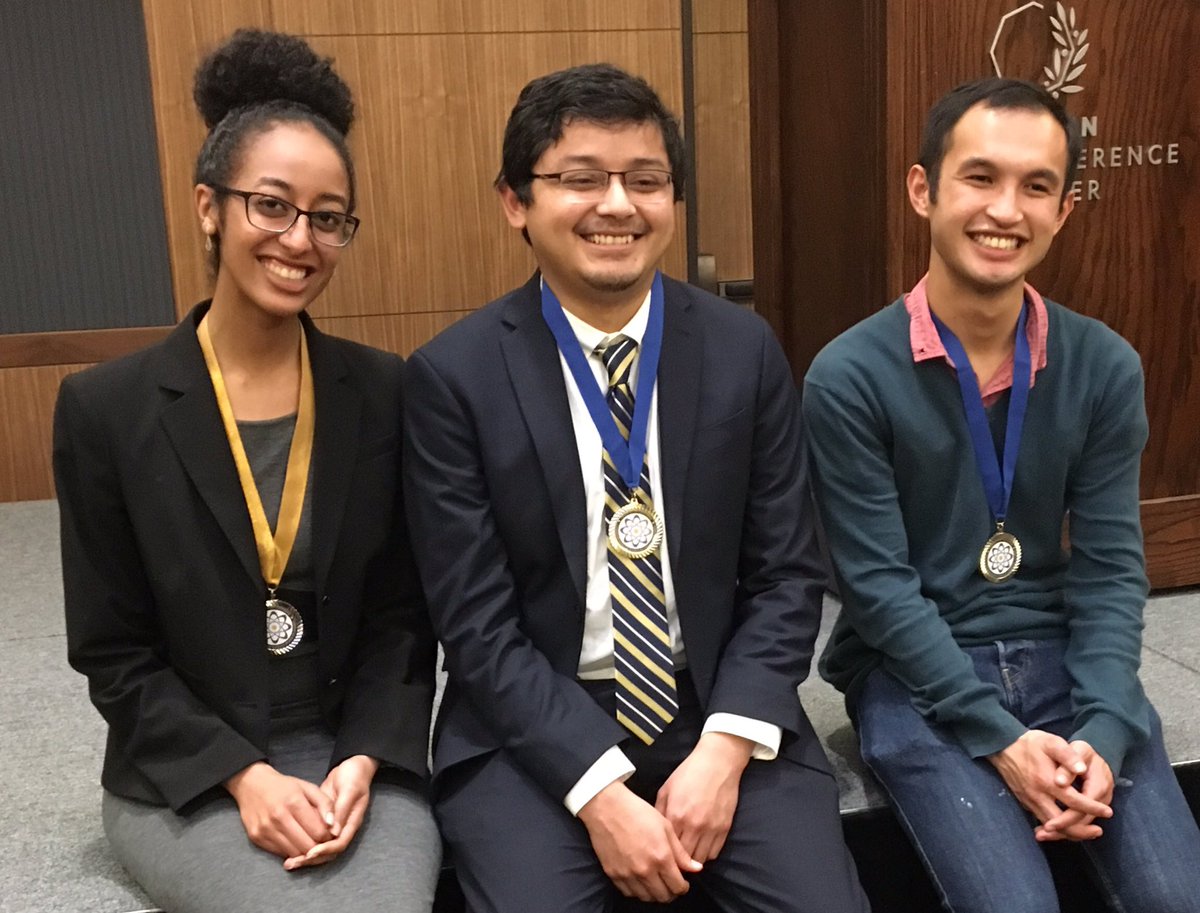 Cal NERDS UC LEADS Scholars Earn Top Poster Awards
March 2017 | Delina Meharenna (Bio Sci), Carlos Sierra (Physics), and Newton Nguyen (Comp Sci - Atmospheric Sci) earn top research poster awards at the UC LEADS Statewide Leadership and Research Conference hosted by UC Los Angeles.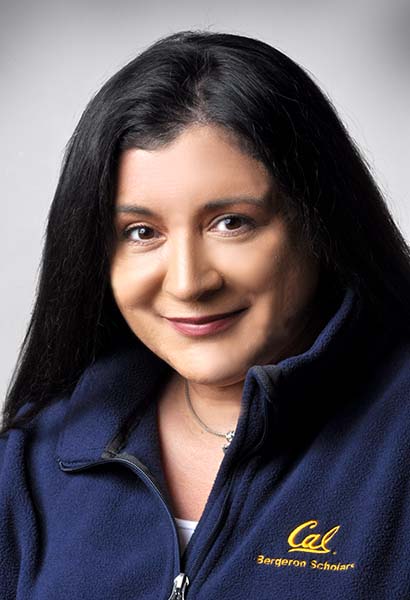 Cal NERDS Director Diana Lizarraga is selected as a Woodland Community College Honoree
March 2017 | Director Diana Lizarraga is proud to be part of the educational pipeline (community college AA to bachelors of science to masters of art to doctoral student) which allowed her to help others. She is being recognized by Woodland Community College for her efforts, read the story here.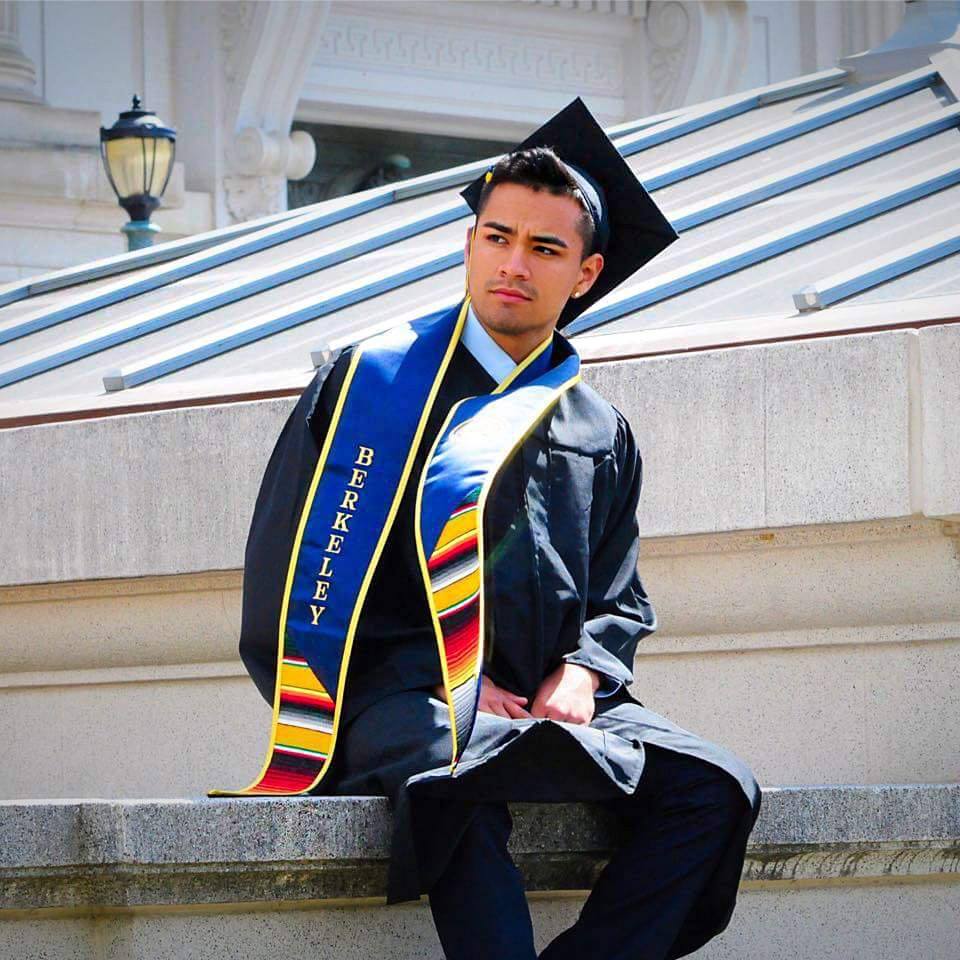 Cal NERDS Scholar Carlos
Earth and Planetary Science NERD Scholar Carlos Lau Torres showcased on UC Berkeley's FB
February 2017 | We are so proud of Carlos as he is one of our alumni but has also been accepted to UC Berkeley's EPS Graduate Program. He has a particular interest is extreme weather. See UC Berkeley's FB post here.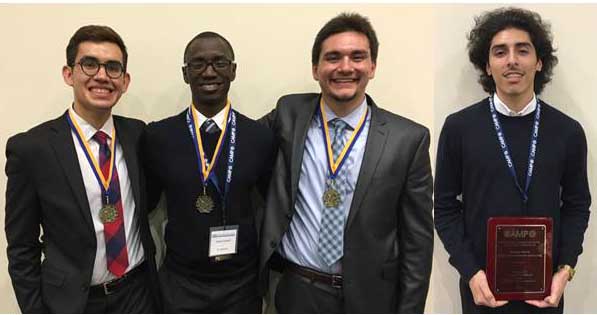 NSF Statewide Research Poster Winners
February 2017 | We had a great time at the NSF Louis Stokes Alliance for Minority Participation in the Sciences (LSAMP) statewide research conference. We are very proud of all of our student presenters. Four of which came home with awards. Congratulations to Gerardo Veliz (Fluid Mechanics), Jamal Samuel (Math/Mechanical Engineering, Anthony Salazar (Material Science and Engineering, and Edgar Ibarra (Physics).

Cal NERDS Graduate Student Alumna Mireille
Stanford Highlights NERD Alumni Mireille Kamariza
January 2017 | Ph.D. Graduate Student Mireille works with Carolynn Bertozzi's chemistry lab. She was part of our NSF Bridge to the Doctorate program and we are so proud of her achievements. Please see the full article here.

Cal NERDS Scholar Newton
LBNL Showcases NERD Scholar Newton Nguyen
October 2016 | Excited to share the news that one of our UC LEAD NERD Scholars Newton Nguyen was profiled by LBNL Here is the link to the full story.

Cal NERDS Alumni Tsion and Angelica
Two Cal NERDS Featured in Careers with Code
September 2016 | As we get ready to launch a new STEMinist women in tech initiative with our partners Data School (more information about that soon) - we got some timely great news that two of our Cal NERDS Alumni, Tsion Behailu (left) - Software Engineer at Google and Angelica Inguanzo (right) - Software Engineer at Youtube, have made it on the cover of the FIRST ISSUE of Careers with Code! Please share this link below and see how they are encouraging others to move forward with exploring tech industry career trajectories. Tsion was an NSF CAMP Cal NERDS Scholar majoring in Computer Science who partnered with Angelica, a Bergeron Cal NERDS Scholar majoring in Computer Science and Film Studies. While at Cal they made a short video to promote computer science to potential female undergraduate students. Click here for their Careers with Code debut.